Banda formada em 1980, na cidade de Victoria, Canadá.
Composta por três garotos de colégio que queriam ser "a banda mais rápida do mundo"(naquela época eles provavelmente o eram).
Antes de se separarem em 83 tocaram ao lado de bandas como Black Flag e Dead Kennedys, e lançaram dois e.p.'s, ambos em 1982:
End All Discrimination 7"
1. Illiterates
2. Fascist Rule
3. E's
4. No Tyme for Romance
5. School Punks
6. Kill the Burnouts
7. Churchgoer's Motive
8. Goodbye 4 Life/Scared to Die
9. Racist Act
10. Life Sentence
11. Don't Want To Be
rapidshare.com/files/134863129/neos_-_end_all_discrimination_7__.rar
&
Hassibah Gets The Martian Brain Squeeze 7"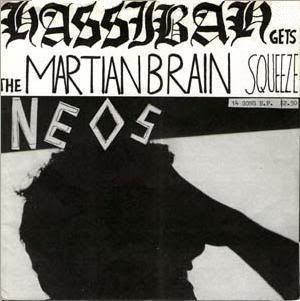 1. Destruct
2. They'll Destroy Themselves
3. (Almost) Typical, Obligatory Anti-Government Song
4. Ambitious
5. Where Did You Go Wrong???
6. Just Like All the Rest
7. Look Around in Despair
8. Conscripts
9. Jungle Beat-So It Seems
10. Other World
11. Oppostion to All Violence, Even If Commited in Self Defense
12. Die for the Cause (Bobby Sands)
13. Ripped Off Again
14. Sexual Revolution
rapidshare.com/files/134864156/neos_-_hassibah_gets_the_martian_brain_squeeze.rar